We are proud to announce the addition of three incredible women to our Board of Directors! Our partner hospitals, their Child Life Services departments, and the children we all serve will benefit from the guidance of Allegra, Lori, and Melissa.
Welcome, Allegra!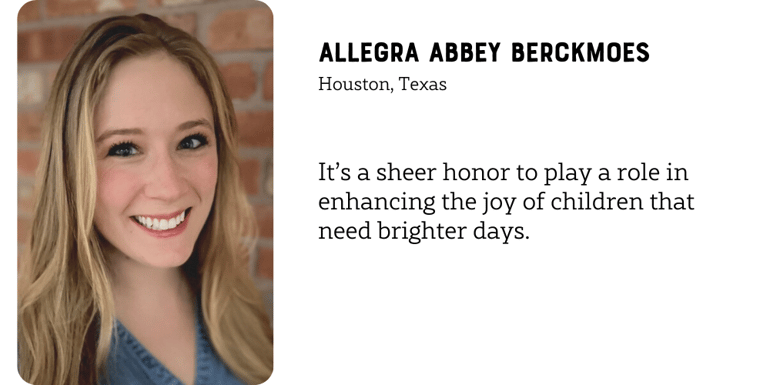 About Allegra
Allegra is an Activity Coordinator at Texas Children's Cancer and Hematology Center, working hands-on with children to facilitate joy-filled moments through art and play. She strives to leave a lasting positive impact on all of her patients and families by fostering meaningful connections. Allegra wholeheartedly believes in the power of healing by giving children the opportunity to express themselves through art.
What Colors Her Life
Working as a Teach For America teacher
Partnering with The Periwinkle Foundation as a Child Life Activity Coordinator for pediatric hematology and oncology patients
Her two rescue poodles, Murphy and Bowser
Why The Crayon Initiative
My personal core values align seamlessly with the mission of The Crayon Initiative. I have been watching this organization from the sidelines for years. Joining the Board of Directors is a perfect opportunity for me to become truly engrained in helping bring joy to children!
Allegra's Favorite Color
Sunshine yellow! Bright and happy!
Welcome, Lori!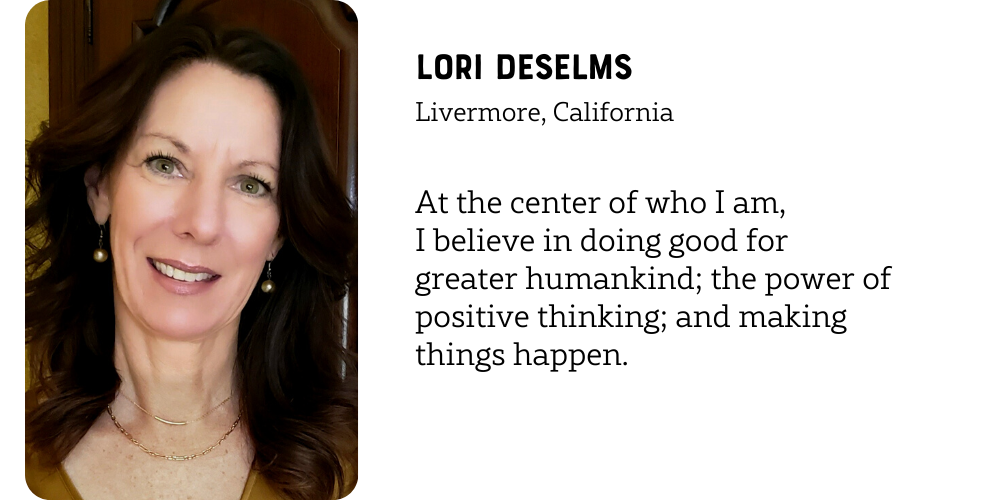 About Lori
A 25+ year veteran in financial services, Lori has a record of excellence in customer management, lifecycle marketing, and business planning. Now retired from Wells Fargo Bank, she is devoted to advocacy and volunteerism for both the early childhood and aging populations. She has seen first-hand the impact The Crayon Initiative has made on "Silent Generation" and "Boomer" volunteers in providing a new-found purpose in life while providing for the therapeutic needs of children.
What Colors Her Life
Advocating for children and the aging population (particularly those diagnosed with Alzheimer's Disease and other forms of dementia)
Servicing her community by volunteering at Tri Valley Haven, a local women's shelter, and supporting fundraising events for Carondelet High School
Creating lasting family memories with her husband, teenage daughter, and extended family
Why The Crayon Initiative
I love the simplicity of The Crayon Initiative mission, to first and foremost provide a therapeutic and creative outlet through the use of recycled crayons to children who are facing health illnesses in hospitals. The fact that there is also an environmental benefit of finding a secondary life for used crayons is an added bonus for me. The Crayon Initiative provides a perfect intersection of my personal passions to give back to a cause I believe in while leveraging my professional marketing and leadership experience to further advance our vision.
Lori's Favorite Color
Red! To me, it represents love and energy—what powers me!
Welcome, Melissa!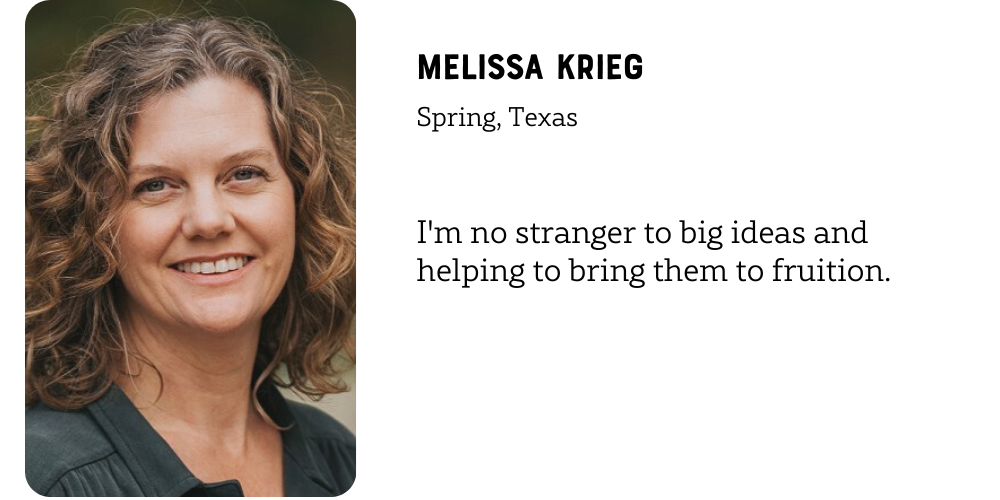 About Melissa
Melissa Krieg is currently the Enterprise Architect for Data & Analytics Technology at ExxonMobil. Highly driven to help others succeed and thrive, Melissa is also teaching teens in a Girls Who Code club and volunteering with Girl Scouts. She gladly brings her passion and talent to The Crayon Initiative, helping to improve the lives of children and their families in their time of greatest need.
What Colors Her Life
Working with Girls Who Code to get the next generation of women excited about STEM careers
Using technology to solve problems and build solutions
Spending time with her family and leading a Girl Scout troop (and her troop collects crayons, too!)
Why The Crayon Initiative
I love the mission and I would like to be able to use my professional skills to help—something that goes beyond collecting crayons with my scouts. I love solving problems, and I'm a "builder!" Helping to optimize operations and plan roadmaps for the future are two things I am most excited about in helping to grow The Crayon Initiative.
Melissa's Favorite Color
Green! It reminds me of the vibrancy of life in the great outdoors, and it energizes me!
We are thrilled to welcome these new voices to The Crayon Initiative's Board of Directors! Thank you all for your service!