A trip to the emergency room is unexpected and scary, and for a child, it can be downright overwhelming. Suddenly, familiar things like dolls and Legos are traded for stethoscopes and needle pricks, and the child just wants to go home. Having witnessed this for years, Shannon Joslin knew she'd found a way to bring a little bit of home to the pediatric emergency department at the University of Maryland Children's Hospital when she discovered The Crayon Initiative. After learning about the organization at a Child Life Conference in 2017, Shannon, the hospital's acting Child Life Director, reached out to The Crayon Initiative and the first box of crayons arrived that fall.
Crayons create an opportunity for "normalizing play," Shannon believes and "helps alleviate some of the fear of being in the hospital." But due to the nature of the ER, the accessibility and portability of The Crayon Initiative crayons make them extra special, particularly in this fast-pasted and high patient volume environment.
"The crayons we currently buy out of the hospital budget comes in a big plus pack, so we have to go through and individually pull out colors and rubber band them or put them in little baggies," says Shannon. But the "beautiful thing" about The Crayon Initiative crayons is that they arrive prepackaged, ready to quickly grab and go." The crayons are paired with coloring sheets and are made available to the entire pediatric trauma department to use, not just Child Life Services. "There are kids with needs 24/7 [in the ER], so the crayons from The Crayon Initiative enable us to keep a supply ready for any staff to access so they can always get crayons and coloring sheets into the hands of children waiting for tests or to see a doctor."
Now almost a year into the program, the response has been overwhelmingly positive. "Anytime you can give a fresh pack of crayons to a child, there's a little bit of excitement," says Shannon. There's something about receiving a pack that no one else has used that brings light to a child's eyes amid uncertainty. "The kids not only get a fresh pack of crayons, but they get to take them home, which adds to the appeal because now you've given them something as well, which all kids enjoy."
According to Shannon, the feedback has always been positive for both kids and their families. "As parents, you didn't plan to come into the ER that day, so you don't have any planned activities to support your child or those wait times." The Crayon Initiative crayons, along with other activities, "give families the resources to help support their child during an already stressful time."
Coloring is comforting to children so providing the crayons and coloring sheets offers something familiar while giving them something to do while they wait. "To be able to foster creativity and self-expression is essential to a child's ability process what their current experience is and develop mastery over it. It also provides us, as care providers within Child Life, an ability to assess how the child understands their healthcare experience," explains Shannon of the importance of using art within the hospital setting. "On a more basic level, when kids are in the hospital, so much control is taken away from them. The ability to give them crayons and paper and let them lead where it does is really powerful when they are in an environment where a lot of that is taken away."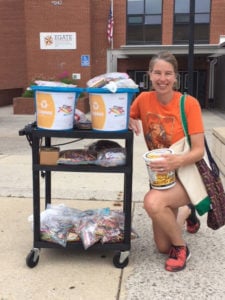 Inspired by the mission of The Crayon Initiative, Shannon is making a difference closer to home, working with pre-K through 3rd grade teachers at her daughter's school to organize a crayon collection drive. "At the end of the school year, every kid is cleaning out their desk. They're going to have remnants of crayons in there. Rather than throwing them away, we're collecting them to send to The Crayon Initiative."
Ultimately, Shannon Joslin wants to get the word out about The Crayon Initiative, because to her, it just makes sense. "For those of us with kids, crayons are a part of our everyday life. There is a place to put those [unwanted crayons]. I was educated by The Crayon Initiative that old crayons ended up in landfills and becomes sludge. I didn't even think about that result! For me, it's a no-brainer. At the end of the school year, it just makes sense that those crayons get repurposed and reused."
But Shannon can also speak to the downstream impact of the mission of The Crayon Initiative. "These crayons really do make it back to children's hospital. In this day and age with so many different organizations out there, there is always a little bit of skepticism. But we've received crayons. This organization is legit and is taking an everyday item that has served its purpose and environmentally providing a good alternative to just throwing it in the landfill."
"As a Child Life specialist, a mother, and someone who tries to make good environmental decisions and teacher her daughter about protecting the earth, The Crayon Initiative provides an opportunity to bring all that together," says Shannon.
So, it turns out that there really is something else you can do with those old unwanted crayons. Crayon advocates like Shannon and countless others are helping us share that message with the world. Because of your generosity, The Crayon Initiative crayons are in 123 hospitals in 33 states and we have shipped 100,000 new packs of crayons to kids in hospitals around the country.